19 April 2023
Target of 30,000 certified installers by 2028 set at launch of the first Energy Efficiency Centre
A campaign to address a lack of certified heat pump installers in the UK has been launched with installers told there is a huge opportunity ahead.
Energy Efficiency at City Plumbing, a leading national heating and plumbing merchant, is behind the campaign, supported by Energy Saving Trust and GTEC Training.
It aims to address a lack of installers qualified to install heat pumps, which are crucial to the country's ambition to decarbonise home heating in the drive for Net Zero.
At last count there were 1,500 MCS certified heat pump installers in the country, compared to 135,000 trained gas engineers.
Hemal Morjaria, Managing Director, Energy Efficiency at City Plumbing, speaking at the official launch of the company's first Energy Efficiency Centre in Farnborough, Hampshire, said: "We are calling on installers to take this opportunity to upskill – and for the industry to make training as accessible as possible.
"The Heat Pump Association estimates we will need 30,000 certified installers to meet the government's desire for 600,000 heat pumps a year by 2028. So, there is a lot of work to do to convince and inspire installers to take up training.
"This skills gap was identified way back in 2019 by the Committee for Climate Change, and it is one of the key reasons we've opened our Energy Efficiency Centre. The aim is to help customers gain access to training, improve their own businesses and to help the country towards Net Zero.
"Energy Efficiency at City Plumbing has partnered with GTEC Training to offer heat pumps training and is also opening its new Centre to the public."
Hemal added: "The Energy Efficiency Centre is designed to help transition installers across to new technologies and to display the technologies we have here at City Plumbing. That includes heat pumps, solar panels, underfloor heating.
"This means homeowners can visit to find out more about alternative heat source technology, be inspired by what they see and visualise how it would work in their own homes."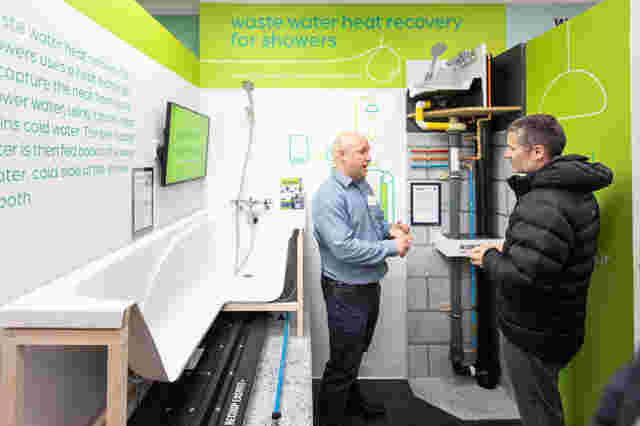 The campaign has already garnered support from Energy Saving Trust, an independent organisation working to address the climate emergency.
Inga Jirgensone, Energy Saving Trust's Group Head of Business Development, said: "We are committed to addressing the climate emergency and building a sustainable future. To achieve this, we need installers with the skills and expertise to install low carbon heating, including heat pumps, and help households across the UK reduce carbon emissions and contribute to net zero."
Griff Thomas, Managing Director of GTEC Training, added: "Whichever way you look at it, heat pumps are here to stay and savvy plumbing and heating installers need to seize the opportunities presented by this market.
"Any investment in upskilling will be returned with a constant and growing stream of business for many years to come, and of course it is important for the environment, too. As a country we need to address this skills gap as soon as possible or face falling further behind."
The next step in the campaign is a 'Forward Together' trade tour in conjunction with leading suppliers, to educate and inspire customers on alternative home heating solutions.
The tour will visit 47 branches in England, Wales and Scotland between June and September, with customers able to meet big-name manufacturers such Vaillant, Daikin, Airflow, Worcester, Grant, Inta, Speedfit, Uponor and Maincor.
A full list of the branches taking part can be found here:
https://eecityplumbing.co.uk/forward-together-tour
A white paper analysing the need for more certified heat pump installers also has been published to support the campaign. For more details go to:
https://eecityplumbing.co.uk/blog/the-age-of-the-heat-pump-is-here